Technology Powered Privacy Solutions
TRUSTe powers privacy compliance and risk management with comprehensive technology, consulting and certification solutions.
Based in San Francisco, we have two decades experience across all industries and a team of more than 150 professionals developing innovative solutions to address global regulatory and data protection requirements that govern the use of customer and employee information.
Our award winning Data Privacy Management Platform addresses all phases of privacy management including program development, data inventory, risk assessments, monitoring, and compliance reporting.
Companies worldwide rely on TRUSTe to demonstrate compliance, minimize risk, and build trust.
TRUST
e

History – Two Decades of Privacy Innovation

TRUSTe has been at the forefront of data privacy management innovation since our founding in 1997, beginning as a non-profit industry association and developing into a cutting-edge privacy technology company. TRUSTe powers privacy compliance and trust through data privacy management solutions and services, including assessments, certifications and our SaaS-based platform.

Take a look below at some key milestones and achievements over the past two decades.
---
January2017
Opened Speaker Submissions for Privacy Risk Summit 2017
November2016
Released GDPR Benchmark Study
October2016
Expanded Consulting and Privacy Advisory Services
September2016
Launched Data Inventory and Mapping
September2016
Released Assessment Manager 3.0
July2016
Launched Privacy Shield Assessments
May2016
Winner 2016 LegalTech News Innovation Award for Risk Management
March2016
Assessment Manager Powers IAPP GDPR Readiness Assessment
2015
Released Assessment Manager 2.0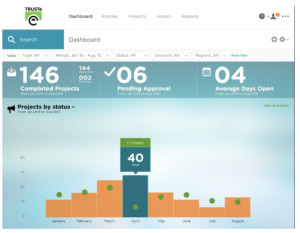 2015
Hosted 2nd annual IoT Privacy Summit
2015
Launched Enterprise Privacy Certification
2015
Named SF Business Times' 'Best Places to Work 2015' for mid-size companies
2015
Launched Assessment Manager
2015
Launched Privacy Insight Series
2014
Launched Data Privacy Management Platform
2014
Named OTA Online Trust Honor Role
2014
Launched TRUSTed Interests
2013
Named First Accountability Agent for APEC Cross Border Privacy Rules (CBPR) System
2013
Named SF Business Times "Fast 100 List"
2013
Launched EDAA Certification and Icon Manager
2012
Launched DAA OBA Compliance for Mobile Ads
2012
Launched EU Cookie Consent Manager
2012
Opened EU office
2012
Launched Website Monitoring
2012
Launched Consumer Research Series
2011
Launched TRUSTed Cloud Privacy Certification
2011
Launched DAA Online Behavioral Advertising Compliance Manager
2010
Named Chris Babel CEO
2010
Launched TRUSTed Apps Privacy Certification
2008
Converted to venture-backed for-profit company
2001
Launched Children's Privacy Certification (COPPA)

2000
Launched Safe Harbor Privacy Assessments
1997
TRUSTe founded as non-profit industry association – Launched Website Privacy Certification
For additional resources, please visit our resource center.