Managing Tracker Privacy Risks
Using cookies and other tracking technologies enables you to provide an enhanced user experience on your website. But these technologies can also introduce privacy risks, leading to compliance problems along with challenges keeping track of dozens or hundreds of third parties who have access to your site. You need a technology tool to identify, analyze, and manage trackers on an ongoing basis across all of our web properties.
TRUST
e

Website Monitoring Solution
Deep Privacy Scans
Our crawling technology can automatically navigate your site – encompassing thousands of pages – to identify tracking activity.
Cookie Consent Integration
Seamless integration with our Cookie Consent Management solution provides automated updates.
Tracker Categorizing
Trackers are automatically grouped by industry and type so that you can quickly drill down on a type and investigate further.
Privacy Sensitivity Index (PSI)
Third parties are matched in a database of thousands of known trackers, each scored with our proprietary risk Index. High, Medium and Low grouping helps you prioritize how you follow up.
Detailed Tracker Summary
You'll get a detailed list of trackers found on your site, along with type and frequency of tracking technologies they've used.
Daisy Chain Analysis
For every tracker found we will also provide a history of all website calls that ultimately brought them to your site.
Tracker Metadata
For each third party tracker found Website Monitoring will give insightful company information to help you determine the right course of action.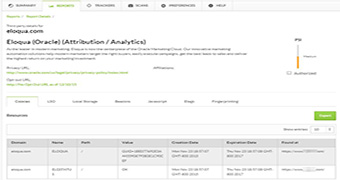 Data Collection Details
TRUSTe Website Monitoring also looks at pages that collect specific forms of PII, checks for encryption, and validates links to privacy policies.
Site Performance Metrics
For each tracker found you can also find out how they may be slowing down your site and perhaps negatively impacting the user experience.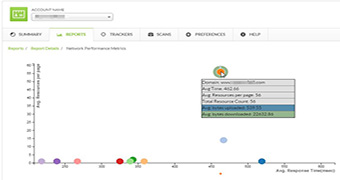 Exporting & Archiving
With a single click you can generate an Excel report that can be shared with others or saved in your results archive.
Streamlined Implementation Process
TRUSTe can help you manage the ongoing discovery and analysis of tracking activity across all your web properties – review our 7-step process below.
Project Scoping
Customers provide the URLs for website and mobile sites they want to want scanned and how deep into each site they want to go. The also determine the frequency needed to keep up with the pace of change.
Provisioning
A Technical Account Manager will set up your scan along with the desired page depth, frequency and geography.


Scan Execution
Scanning starts at the home page and automatically crawls through all links capturing all user tracking technologies along with the string of calls that bring a tracker to your site. Third parties found are instantly matched to several thousands in our tracker database providing a rich level of information for follow up.
Review & Analysis
After deep digital scan is complete, the Technical Account Manager will analyze the data and schedule a call to walk customers through findings of first and third party trackers, PSI scores, tracking technologies types, market verticals, network performance, and more.

Account Training
Beyond the finding report, customers can get online user training for TRUSTe online portal to view results, analyze data or export / share with others.


Regular Updates
With each subsequent scheduled scan, TRUSTe Website Monitoring will detect new trackers and alert you. With a subscription to Cookie Consent Manager, you'll also get automatic updates to your customized consent mechanism.
White Label Management
Take control of which tracking cookies are authorized to be on your site with administrative tools that let you identify those who have been vetted and deemed okay.


TRUST
e

Advantage

TRUSTe solutions are based on a unique combination of privacy expertise, proven processes, and innovative technology – explore the TRUSTe Advantage:
What Our Customers Say
TRUSTe powers privacy compliance and risk management for over 1,000 companies around the world.
For additional resources, please visit our resource center.