EU US Privacy Shield Compliance
The EU–U.S. Privacy Shield Framework requires companies meet stronger obligations to protect the personal data of Europeans and introduces stronger monitoring and enforcement by the US Department of Commerce (DOC) and the Federal Trade Commission (FTC). Now more than ever, companies need guidance to ensure requirements under the new framework are met.
Demonstrating EU Data Transfer compliance through EU-US Privacy Shield Self-Certification should be a critical component of your global compliance strategy. Your customers and business partners expect you to have a legally approved solution in place and regulators require that you can demonstrate compliance.
TRUST
e

EU-US PRIVACY SHIELD SOLUTIONS

TRUSTe offers three (3) packages to provide the level of EU-US Privacy Shield support that your organization needs.

TRUSTe can review compliance for customer data, employee data, or both.

TRUSTe will have a Swiss Harbor assessment ready to help ensure that your organization is compliant with these obligations once they are finalized. The Department of Commerce is expected to start accepting certification applications in April 2017.
Verification
Package
Assessment
Package
Dispute Resolution
Package
Dispute Resolution *
Privacy Feedback Button
Comprehensive Assessment: Customer and / or HR Data
Tracker Scanning
Findings Report
Searchable Audit Trail
DOC Registration Assistance
Ongoing Guidance
Remediation Assistance
TRUSTe Privacy Seal
TRUSTe Letter of Attestation
TRUSTe Third-party Verification Listing for DOC
* Dispute Resolution (DR) is only included with Customer Data solutions. DPAs must provide DR for HR Data related inquiries.
DISPUTE RESOLUTION FEATURES
Dispute Resolutions is available standalone, or in conjunction with Privacy Shield Assessment and Verification Packages.
Dispute Resolution Service
Helps efficiently manage privacy inquiries from customers, and addresses dispute handling requirements of EU-US Privacy Shield Framework.


Privacy Feedback Button
Provides external demonstration to consumers, business partners and regulators that your company uses TRUSTe technology and tools to help manage privacy related questions or concerns. The button may be placed on digital privacy policy pages and is linked to an online mechanism / form for consumers to submit questions and feedback.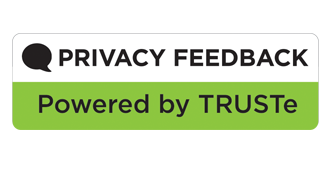 ASSESSMENT FEATURES
The Assessment phase helps identify and mitigate privacy risks.
Comprehensive Assessment
A TRUSTe Privacy Solutions Manager (PSM) works with your team to guide discovery of relevant information, including what data is collected, how it is used, disclosures, relevant data flows, and more. We jointly define the scope of discovery across business units, product/service lines, and digital properties along with what type of data to include – customer vs employee and online vs offline. The assessment reviews privacy policies and practices against the Privacy Shield Framework.


EU-US Privacy Shield Registration Guidance
Assistance preparing for the Privacy Shield registration process.



Ongoing Guidance
Access to TRUSTe privacy experts for ongoing policy guidance, along with educational webinars, events, whitepapers, client advisories, privacy tips and research.


Tracker Scanning
TRUSTe will apply proprietary scanning tools to the applicable digital properties to generate insight into personally identifiable information (PII) data collection, first and third party tracker usage, and level of risk through the Privacy Sensitivity Index (PSI).


Searchable Audit Trail
All assessment work and supporting documentation is available in a central repository, providing an efficient way to respond to inquiries and demonstrate compliance for internal / external audits.



Findings Report
A detailed findings report with a gap analysis and remediation recommendations is generated to guide certification preparation efforts.



TRUSTe Technology Platform
The assessment is powered by TRUSTe Assessment Manager, our SaaS technology solution that provides interactive compliance review, centralized on-demand reporting, searchable audit trails, and much more.


VERIFICATION FEATURES
The Verification phase ensures all required remediation changes have been completed prior to filing your application with the Department of Commerce.
Remediation Assistance
TRUSTe guided remediation assistance and verification checks to ensure all required changes are made and reflected in applicable privacy policies.


Letter of Attestation
An official letter is provided and can be shared with business partners and other organizations to demonstrate your commitment to privacy.


Third-party Verification
Authorization to list TRUSTe as the third-party verification entity in your Department of Commerce filing and registration record.


Privacy Certification Seal
Once certified, we will authorize your use of the TRUSTe certified privacy seal for display on your digital properties. The seal is hosted by TRUSTe and links to a TRUSTe Validation Page.
TRUST
e

Advantage

TRUSTe solutions are based on a unique combination of privacy expertise, proven processes, and innovative technology – explore the TRUSTe Advantage:
What Our Customers Say
TRUSTe powers privacy compliance and risk management for over 1,000 companies around the world.
For additional resources, please visit our resource center.