EU US Privacy Shield Compliance
Powered by TRUSTe Assessment Manager
The European Commission approved the EU–U.S. Privacy Shield Framework. The new program will require companies meet stronger obligations to protect the personal data of Europeans and introduces stronger monitoring and enforcement by the US Department of Commerce (DOC) and the Federal Trade Commission (FTC). Now more than ever, companies need guidance to ensure requirements under the new framework are met.
Companies come to TRUSTe when they're concerned about the protection of customer and HR data in their global operations. Business teams especially want to mitigate any risks when expanding or acquiring operations in Europe requiring the collection, use and transfer of EU customer or employee data to non-EU nations.
Demonstrating EU Data Transfer compliance through EU-US Privacy Shield Self-Certification should be a critical component of your global compliance strategy. Your customers and business partners expect you to have a legally approved solution in place and regulators require that you can demonstrate compliance.
EU-US PRIVACY SHIELD Solutions
TRUSTe offers three (3) packages to provide the level of EU-US Privacy Shield support that your organization needs. You can elect to have TRUSTe review your customer data compliance, HR / Employee data compliance, or both.
Verification
Package
Assessment
Package
Dispute Resolution
Package
Dispute Resolution *
Privacy Feedback Button
Comprehensive Assessment: Customer and / or HR Data
Tracker Scanning
Findings Report
Searchable Audit Trail
DOC Registration Assistance
Ongoing Guidance
Remediation Assistance
TRUSTe Privacy Seal
TRUSTe Letter of Attestation
TRUSTe Third-party Verification Listing for DOC
* Dispute Resolution (DR) is only included with Customer Data solutions. DPAs must provide DR for HR Data related inquiries.
Key Benefits
Accountability-on-demand to respond to any inquiries, providing searchable evidentiary support of your privacy compliance
Demonstrated privacy commitment to build trust with users, clients, business partners, and regulators
Streamlined process minimizes disruption to your daily business operations and lightens the load for your in-house team
Flexibility to extend assessment to certification with remediation guidance and verification
DISPUTE RESOLUTION FEATURES
Dispute Resolution
TRUSTe provides a third-party dispute resolution service, which helps you efficiently manage privacy inquiries from customers, and addresses the dispute handling requirements of the EU-US Privacy Shield (which replaces "US-EU Safe Harbor") Framework.


TRUSTe Privacy Feedback Button
We provide you with external demonstration to consumers, business partners and regulators that your company uses TRUSTe technology and tools to manage privacy related questions or concerns. The Powered by TRUSTe Privacy Feedback Button may be placed on your digital Privacy Policy page and links to a mechanism for consumers to submit questions or feedback.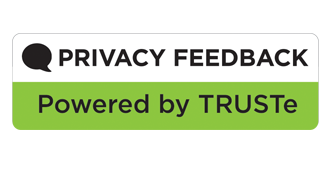 ASSESSMENT FEATURES
Our Assessments provide you with the information you need to take control with specific steps to mitigate risks.

Comprehensive Assessment
We first define the scope of assessment by business units, product/service lines, and digital properties (websites, apps, cloud platforms). Then determine whether to limit to customer or HR / employee data, or extend the review to both customer and HR data as well as your offline practices. A dedicated Privacy Solutions Manager (PSM) works with your team to efficiently guide discovery of necessary information, including relevant data flows. We then evaluate your privacy policies and practices against the EU-US Privacy Shield (which replaces "US-EU Safe Harbor") Framework requirements.


Tracker Scanning
TRUSTe will apply proprietary scanning technology to the applicable digital properties providing comprehensive insight into personally identifiable information (PII) data collection, first and third party trackers on your property, and level of risk through the Privacy Sensitivity Index (PSI).


Findings Report
Our team delivers a findings report with a gap analysis dashboard and remediation recommendations so you have the privacy risk information you need to take actionable steps.


EU-US Privacy Shield Registration Guidance
TRUSTe will assist with EU-US Privacy Shield Registration.


Ongoing Guidance
You also get access to TRUSTe privacy experts for ongoing policy guidance, along with educational webinars, events, whitepapers, client advisories, privacy tips and research.


Searchable Audit Trail
All of your assessment work and supporting documentation is available in a central repository for you to easily search, providing you with a way to respond to inquiries and demonstrate compliance for internal / external audits.


TRUSTe Technology Platform
TRUSTe Assessments and Certifications are powered by TRUSTe Assessment Manager, our innovative SaaS technology solution that provides state of the art interactive compliance review, centralized on-demand reporting, searchable audit trails, and much more.


VERIFICATION FEATURES
With Assessment results in hand, you have the flexibility to choose whether to obtain additional support for your EU-US Privacy Shield (which replaces "US-EU Safe Harbor") Self-Certification with the Department of Commerce.

Remediation Assistance
Guidance with remediation assistance and verification checks to ensure all changes made and reflected in privacy policy.


Third-party Verification
Authorization to list TRUSTe as the third-party verification entity in your Department of Commerce filing and registration record.


Letter of Attestation
As proof of TRUSTe Certification, an official Letter of Attestation can be shared with your business partners, providing your organization with competitive differentiation.


TRUSTe Privacy Certification Seal
Once certified, we will authorize your use of the TRUSTe Certified privacy seal for display on your digital properties. The seal will be hosted by TRUSTe and linked to a TRUSTe Validation Page to provide verification along with an easy-to-understand consumer notice that you meet globally recognized privacy requirements, including the EU-US Privacy Shield, upon which the TRUSTe Standards are based.


Other EU Privacy Offerings
You may also be interested in the following TRUSTe EU related privacy offerings:
Model Contract Clause Assessment
Assess your compliance vs. EU Data Protection Directive 95/46/EC associated with contract clauses added for your cross border data transfers. You can combine this offering with a Safe Harbor Assessment to provide maximum protection.
Assess your compliance vs. the key provisions outlined in the General Data Protection Regulation.
Cookie Consent Privacy Solutions
Ensure compliance with the EU Cookie Directive.
Ensure compliance with the EDAA Online Behavioural Advertising Program. TRUSTe is both an authorized icon provider and trust seal certification provider.
PIA / Privacy Assessment Automation
Prepare for the GDPR and streamline management of your privacy assessments with TRUSTe's Assessment Manager, part of our Data Privacy Management Platform. Assessment Manager provides an end to end solution for creating assessments, collecting feedback across your organization, remediating changes, and producing an auditable archive of compliance reports.
---
The TRUST
e

Advantage
TRUSTe Technology Platform
TRUSTe Assessments and Certifications are powered by TRUSTe Assessment Manager, our innovative SaaS technology solution that provides state of the art interactive compliance review, centralized on-demand reporting, searchable audit trails, and much more.
TRUSTe Privacy Team
TRUSTe Assessments and Certifications are managed by our expert team of privacy professionals. The TRUSTe Team uses our proprietary assessment / certification methodology along with innovative technology tools to deliver in-depth, high quality results every time.
The Team consists of Privacy Consultants and Analysts with significant experience conducting privacy assessments. The team has a unique hybrid background of privacy, technology, business process, and project management experience. All are CIPP trained or certified, many have law degrees, and bring hands-on experience working for a wide range of companies including Adobe, American Express, Citrix, Comcast, HSBC Bank, IBM, Kimberly-Clark, Microsoft, Pfizer, and many more.
TRUSTe Experience
TRUSTe has nearly two decades of experience delivering data privacy management solutions for thousands of global brands. We have pioneered many innovative solutions, and are a leading provider of privacy services supporting regulatory and self-regulatory compliance programs for a wide range of agencies including APEC, DOC, DAA, EDAA, and FTC.
For additional resources, please visit our resource center.